​We will not ship kittens. Your kitten can be picked up in Phoenix, AZ, or we will hand deliver to you for the cost of airline ticket and airline pet fee. There are also couriers who will deliver to your local airport. If you are within a 300 mile radius we can possibly deliver or meet you halfway. Please read the information below and note that we will not sell to homes that want to declaw. This is a barbaric form of lifelong torture for these animals, the equivalent of having all of your fingers cut off at their first joint. If you plan to declaw, please do not contact me for a kitten.
We also will not sell a kitten to cigarette smoking buyers . The health hazards are not only huge, but the kitten licks the nicotine off of its fur and has a double risk of cancer and lung disease. If you smoke in your home please do not contact me for a kitten.
Price of kitten: Price varies depending on quality and color. Contact me for more information if you are interested in a particular kitten or upcoming litter.
​Kittens are sold as spayed or neutered pets with the exception of established breeders and show homes. We do not do early spay or neuter for the safety and future health of your kitten. A significant portion of your kitten price will be refunded to you and registration papers provided upon proof of spay or neuter to be done between 5.5 and 6.5 months old.
I will accept a deposit on the kitten after they are fully evaluated for quality and personality. Please read the information below, and then send me an email on the contact form with some information about your home and what you are looking for in attributes of your new pet.
​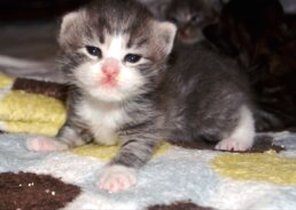 The Basics: An application form will be sent on request.
1)Kitten will be provided with safe, clean shelter and will not be left outdoors unsupervised. Kitten will not be hit, kicked, or physically abused in any way.
2)Buyer is aware that kittens and cats are social creatures and will not leave pet in solitary situations for long periods of time. Kitten will not be expected to live in a cage.
3)Kittens will be sold only to indoor homes. Declawing is not permitted.
2)In the event the kitten must be re-homed at any time in the future, NightMusic will be contacted. The cat will be returned to us, or we will help find an appropriate home. The kitten will not be given up to a shelter or questionable home where his future would be uncertain.
3)Breeder will raise kittens in safe, clean, healthy environment, free of FIV, FeLV, fleas, ticks, worms, and other contagious or parasitic entities.
4)Breeder will have age appropriate vaccinations given at 8 and 11 weeks of age. Litter check will be done for parasites, FIV, FELV1.
5)Buyer is aware that kitten will require further vaccinations, and will obtain.
6)Buyer will establish care with a veterinarian within 3 days of purchase. If, in the opinion of a veterinarian, the kitten has a life threatening illness or congenital defect that is detrimental to the well being of the animal, or interferes with the normal function of the animal, breeder will replace kitten or refund money, per decision of breeder.
7)Breeder guarantees kitten to be free of HCM and PKD for three years from date of purchase. If kitten is diagnosed by a veterinarian using standard of care diagnostic methods, within this time period, the breeder will refund purchase price or provide a new kitten, breeders choice.
8)Buyer is aware that the responsibility of pet ownership includes the ability to provide medical care, wellness visits, quality diet, and appropriate toys, bedding, ect., and is prepared to take on the financial responsibility this entails.
9)Buyer understands that the Siberian Cat is a highly intelligent and social creature that needs his own place in the family structure, and thrives on love, affection, and acknowledgement.
10)NightMusic reserves the right to hold back any kitten for show.
11)NightMusic reserves the right to refuse to sell a kitten to anyone for any reason.
12)NightMusic will not ship kittens to homes with severe cat allergies. Buyer must interact with kitten prior to purchase.
13)$200.00 nonrefundable deposit by check or paypal will hold kitten once chosen. Remainder is due 2 weeks prior to pickup. If unforeseen circumstances occur, remainder will be refunded and we will do our best to locate another buyer for the kitten and refund $200.00 deposit money. Notice given after kitten is ten weeks old will result in forfeit of $200.00 deposit unless home can be found at same purchase price. Prospective buyers may go on waitlist without charge until kittens are born and chosen, in order of wait list.