CFA Grand Champion Elizaveta of Barvinok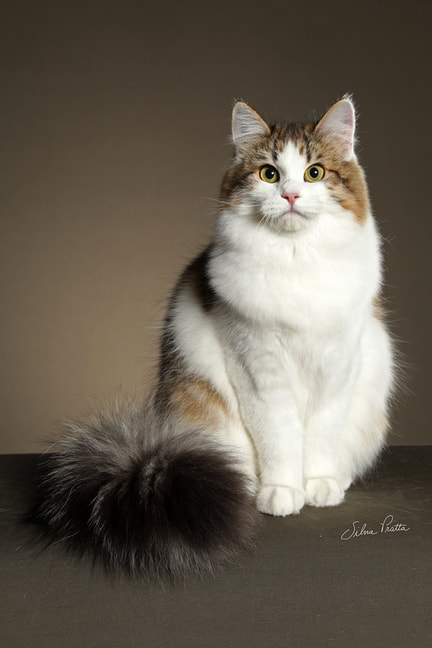 We welcomed Elizaveta Of Barvinok, our princess, from Kiev, Ukraine in the fall of 2013. 8 months old in photo above. A stunning girl with the most incredible coat and a personality to match. Her mother is WCF world champion siberian cat, Margo Serenity. I am very grateful to my friend, Iryna Petrenko, of Barvinok Siberians, for letting me have this fantastic girl to show and share my home with.
Birthdate: June 6, 2013
HCM: negative
PKD1 negative
Show news for Elizaveta:
She attended the CFA World Championship show in Novi, Michigan and at barely 5 months old beat some strong competition to receive one second best of breed ring, and 3 third best of breed rings.
Jacksonville, CFA. January 2014. Our little beauty queen went home with 2 top 10 final rings!
She resumed her show schedule late in 2014.
2014-2015 final season results for CFA: Best brown mackerel tabby with white in Southern Region
She resumed her 2015 show career after her spring litter of kittens.
Ormond Beach CFA show January 2016: Grand Champion!


---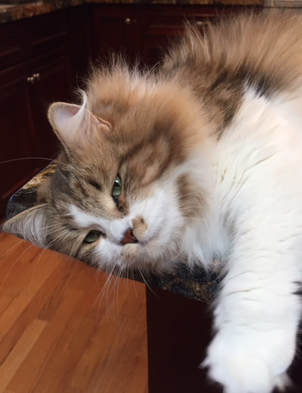 TICA CH., CFA CH., Basilic Blessings Elaia
Born September 12, 2015
Sire: RW, DGC Amurin Thaddeus
Dam: TICA Supreme GC, RW, Basilic Blessings Johanna Joy
Photo left 1.5 and below at 2.5 years
HCM negative
​PKD1 negative

Elaia, my gorgeous brown tabby with white girl is from Basilic Blessings Siberian Cats in Milwaukee, WI.
Many thanks to Kent and Shelley for the opportunity to own and show this great girl. Elaia is the mom of fantastic litter M and we will be planning a litter from her in early 2018.
---
---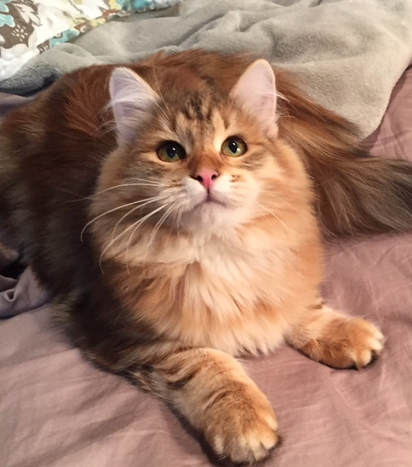 Quincy Vivalavita
​Golden Classic Tabby
Birthdate April 28, 2017
Sire: GIC Patricio Slavicat
Dam: Infinity Vivalavita
Photo at 6 months
PKD1-pending
​HCM- at one year

Exceptional young girl with fantastic coat and color. Her personality is as beautiful as she is. She will show as an adult beginning in February 2018.
My gratitude to Ekaterina Kudoshina for allowing me the opportunity to bring Quincy home.

---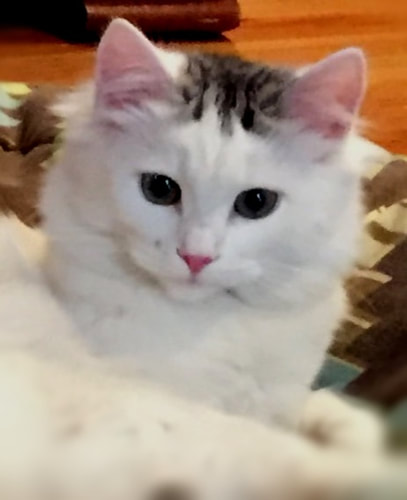 NightMusic Nikolaevna , 'Nikki"
Birthdate July 15, 2017
Sire: TICA CH, RW, Rockaran Rex Luchezarovich
Dam: CFA GC Elizaveta of Barvinok
Black Silver patched tabby with white
PKD1 pending
​HCM at one year

Our home raised girl will stay in our cattery. She has her mother's amazing coat and thinks she rules the household.
---