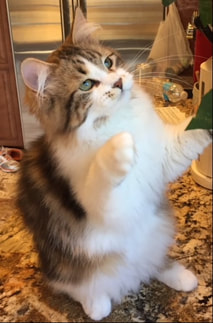 Our hearts and home have been blessed with this wonderful breed of hypo-allergenic cat ever since our first Siberian kitten arrived at our home in 2004. My daughter who was 2 years old at the time named our new treasure Kitty Sanders. We could not have foreseen how this little bundle of fur and intelligence would change our lives. We also share our home with horses and a desert-rescue dog named Mandy. All creatures that find their way to our home are given the best of care and treated with kindness and respect.

The philosophy at NightMusic is to give every animal that enters our home the best food, shelter and health care possible. Our cats are all tested for HCM at approx. one year old, as well as PKD1, FIV, FELV1 at an earlier age. We do not breed cats that show signs of Herpes or other contagious entities.
We have taken the time to learn as much as possible about the wonderful Siberian Cat and will be happy to answer questions on their personality and character traits. Anyone planning on adding a pet of any type to their household is encouraged to research the needs of that particular breed and be certain the new family member fits with their human's lifestyle and expectations. Our Siberians are active, healthy, highly intelligent members of our family, and have the run of the house and several fully enclosed patio and porch areas where they can view the wildlife on our 1.25 acre desert ranch. They are loved and and cherished gifts we take full responsibility for. It is our hope to further the public awareness of the incredible Siberian breed- the cat that is more than just a cat.